Signal
字体介绍
品牌:Production Type设计师:MarionSendral,CélineOdermatt,DonaldChoque发行时间:2019字库编码:Unicode分类:无衬线体字体属性:精品字
英文名称:signal-extralight.TTF、signal-extralight.TTF、signal-extralight.TTF、signal-extralightitalic.TTF、signal-extralightitalic.TTF、signal-extralightitalic.TTF、signal-light.TTF、signal-light.TTF、signal-light.TTF、signal-lightitalic.TTF、signal-lightitalic.TTF、signal-lightitalic.TTF、signal-regular.TTF、signal-regular.TTF、signal-regular.TTF、signal-italic.TTF、signal-italic.TTF、signal-italic.TTF、signal-bold.TTF、signal-bold.TTF、signal-bold.TTF、signal-bolditalic.TTF、signal-bolditalic.TTF、signal-bolditalic.TTF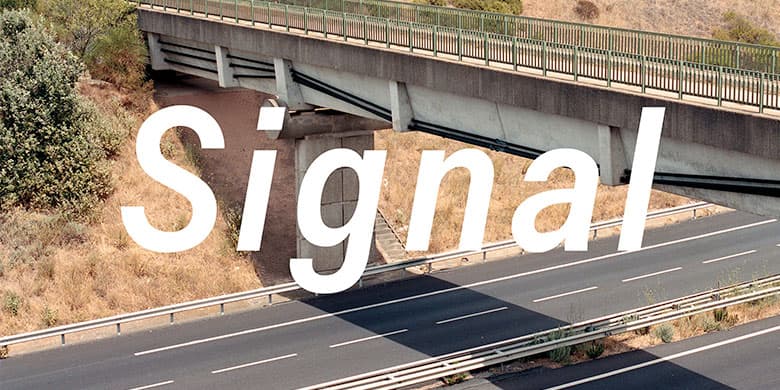 Signal leans on a significant part of the French typographic landscape: Caractères, the typeface found on road signs throughout France. Although the genesis of these standardized alphabets (originally instated by the Ministry of Transport) remains obscure, they've officially dominated the French road network since 1946, and embody its typographic identity.
Until now, Caractères had existed only in its standardized form: four incomplete styles named L1, L2, L4 (an italic variant with both upper- and lowercase characters), and L5. The bootleg digital versions available were similarly incomplete and poorly executed.
Specifically developed with urban signage, interfaces, and exhibition design in mind, Production Type's new Signal series completes and extends the pre-existing set of styles. The palette is an extrapolation of previously unexisting roman lowercases in four weights and their matching italics, a complete set of accents for multilingual typesetting, numerous arrows and pictograms, and characters for mathematical typesetting. An extra Compressed style, skewed and excessive, wittily rounds out the family. As a new ensemble, Signal boosts Caractères' potential, making it particularly well-suited for interface design.
An epitome of late-modernist thinking, Signal's aesthetic is inextricably bound up with administrative design. The letters conform to the rigor that suffused most sans serifs of the second half of the twentieth century. Signal has a bespoke appearance and a distinctive typographic color (see especially the unconventional spacing of the italic cuts). Production Type has a long-standing relationship with signage typefaces, making them a focus of research from as early as 2003. This new Signal, revisited and harmonized, continues our reflexion and opens up new possibilities for dialogue.
特别提示:
1、本站所有字体仅供个人学习和研究使用,禁止任何商业应用!如需商业用途请自行购买字体的商用授权;
2、一切因使用本站而引致任何意外、疏忽、合约毁坏、诽谤、版权或知识产权侵犯等及其所造成的损失,本站概不负责,亦不承担任何法律责任;
3、本站是一个非赢利性的网站,目的是为优秀的字体进行展示宣传,若侵犯了您的权利,请来信告知,我们将立即处理;如果想在本站展示字体也请与我们联系。
4、联系我们: